IELTS Bar Chart - Computer Ownership
by novita
(indonesia)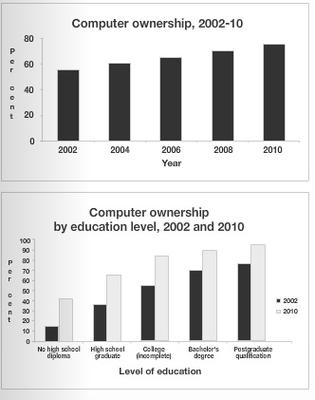 The graphs above give information about computer ownership as a percentage of the population between 2002 and 2010, and by level of education for the years 2002 and 2010.
Hi, may i please have a feedback on my ielts writing below? any suggestion is a huge help. thank you.

Computer ownership increases significantly from the year 2002 until 2010. The graph shows in the beginning, roughly sixty - percent of the population owns a computer. By the year 2010 this number has almost double in size with an eighty-percent of the population then owns a computer. The graph also shows that there is a constant positive trend of computer ownership during those years leaving only twenty- percent of the population which does not yet own a computer by the end of 2010.

The education level of the population also affects the number of computer ownership. The later the year, the more people goes to school, the more graduates are emerged, hence the higher they are at their level of education. From the graph, a population with a higher level of education tends to own more computers than the slightly less educated population. However, the increase of computer ownership over the years is particularly evident accross all range of education regardless the education level.