IELTS Bar Chart - Percentage of Population in Urban Areas
by Cher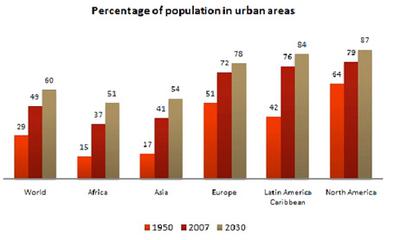 The bar chart gives information about the percentage of the population living in urban areas in different parts of the world.
Summarise the information by selecting and reporting the main features, and make comparisons where relevant.

The bar chart shows the percentage of the population living in six different regions of the world in three different years.

In 1950, North America had 64 per cent of people living in the cities, reaching 90 per cent by 2050, makes it the highest percentage of population compared to other areas. By contrast, Africa had 15 per cent of citizens living in urban areas in 1950, which is the lowest percentage compared to the other regions of the world; however, it had the greatest change from 1950 to 2050, quadrupled from 15 per cent to 62 per cent. Moreover, Asia also had similar pattern of changes as Africa, increasing from 17 per cent in 1950 to 66 per cent in 2050. On contrary, Oceania has the least changes of percentage from 1950 to 2050; the difference is only 14 per cent. Moreover, the percentage of people who lived in Latin America and Caribbean has doubled from around 40 per cent to 80 per cent over a century.

In conclusion, it is clear that the percentage of population in urban areas in six parts of the world has increased over a hundred year. However, these percentages change at the different rates for each city.