IELTS Line Graph - Fast Food Consumption
by kuttiana84
(scottland)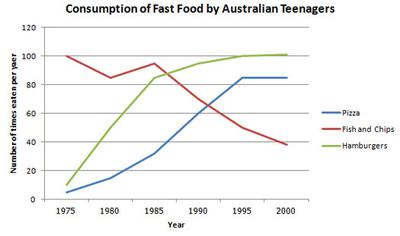 The line graph shows changes in the amount and type of fast food consumed by Australian teenagers from 1975 to 2000.
The line graph depicts variations in the fast food consumed by Australian teenagers between 1975 and 2000. Unit is given in number of times eaten per year.

Overall, it can be seen that intake of hamburgers and pizza has increased while that of fish and chips has fallen down during the period.

To begin, the consumption of hamburgers and pizza stood at around 10 in 1975. Over the next 20 years, there was a gradual rise in their uptake with hike in the former was much more than the latter reaching to approximately 100 and 85 respectively in 1995. Thereafter, the figures remained steady till the end of the period.

In contrast, the utilization rate of fish and chips which was 100 in 1975, fluctuated in the next two years and thereafter showed a dramatic decrease to reach the trough of around 40 in 2000, which was the lowest among all the three during that period.


***
Help this student to improve their score by proving feedback below on this IELTS Line Graph about Fast Food Consumption.