IELTS Line Graph - The amount of food eaten by Chinese consumers
by jack chen - wu ze tian
(nan jing)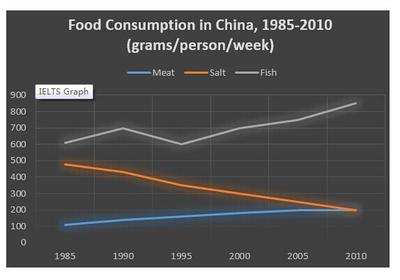 The graph below shows the changes in food consumption by Chinese people between 1985 and 2010.
Summarise the information by selecting and reporting the main features, and make comparisons where relevant.
can i get a band 8 for my graph?

The line graph compares the amount of food eaten by Chinese consumers from 1985 to 2010.

Overall, it can be seen that fish was consumed the most by Chinese people. In addition, the consumption of salt gradually decreased over a 25-year period, while the amount of meat eaten grew steadily.

In 1985, nearly 600 grams of fish was consumed by average Chinese person, but this number was much higher than either salt or meat, at just under 500 grams and only 100 grams respectively. Despite a slight decrease of fish consumption between 1990 and 1995, its figure remained strong growth over the period to reach the top, at approximately 850 grams in 2010.

As the time passed by, the consumption gap between salt and meat was narrowed. The amount of salt eaten declined significantly from 500 grams in 1985 to only 200 grams in 2010. By contrast, the amount of meat consumed rose steadily throughout the period, and its figure finally reached to the same level as salt by 2010.

Return to IELTS Graph Feedback Forum.