IELTS Pie and Line Graph - Spending on Food and Restaurants
by Alikung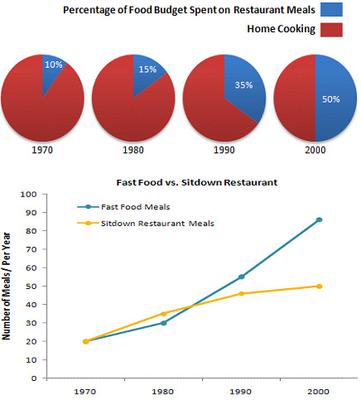 The charts show the percentages of their food budget the average family spent on restaurant meals in different years. The graph shows the number of meals eaten in fast food restaurant and sit-down restaurant.
The pie charts describe the budget percentages of average family for their foods in restaurant and home cooking meals between 1970-2000 periods. Furthermore, there is a line graph that indicates the number of meals per year were eaten by people in fast food restaurant compared by sit-down restaurant in the same periods.

In the beginning of this period, the family cost domination was spent for home cooking meals (10%), although, the different condition occurred in 2000, while the food restaurant allocation reached the peak and dominate the budget, for about one out two parts. Through this term, the consumption of restaurant foods continued to rose steadily about 5-15% for each next years. In 1970, amount of meals were eaten in fast food as much as sit-down lounge (20), otherwise in the end of this term, fast food reached the peak and lead the markets with sharp increases along the years. Sit-down restaurant foods have same trended as fast food, however, the rising less than that.


***
Please give your comment, thank you.