Owned and Rented Accommodation
by Chandni Kayastha
(Kathmandu, Nepal)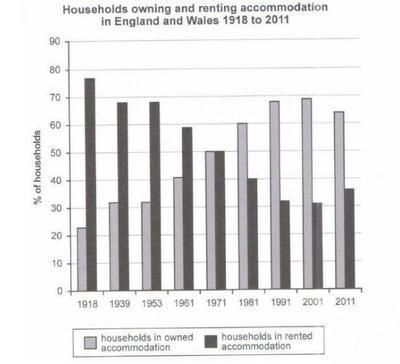 The chart shows the percentage of households in owned and rented accommodation in England and Wales between 1918 and 2011
The bar graph shows the percentage of households owned and rented accommodation in England and Wales between 1918 and 2010.

In England, people are gradually shifting towards the owned house as we can see the percentage of household in owned accommodation is in increasing trend whereas of rented accommodation the percentage is declining. Moreover, in the late 20th century, the percentage of the household for both the year is equal. We can also notice a little fluctuation in the percentage of households for both of the accommodation in the later years.

With regard to owned accommodation, the first 35 years were very challenging. The proportion of household for rented apartments for these years was around 70% while owned housing was only about 20% to 30%. The year 1971 was a game changer as a household for both the accommodation came into equilibrium reaching 50%.

In contrast to the previous, years, people start preferring own house rather than rented which reduced to 40% in 1981 followed by approximately 30% in 1991 and 2001. However, 2011 experienced a little variation in the percentage of both the accommodation, with around 5% increment in rented and the same percentage reduction in owned accommodation.

IELTS Bar Chart - Owning Renting Accommodation
The chart below shows the percentage of households in owned and rented accommodation in England and Wales between 1918 and 2011.

Summarise the information by selecting and reporting the main features and make comparison where relevant.

The bar chart compares the proportion of families who owned and rented accommodation in the UK and Wales over the period of 93 years, from 1918 to 2011.

Overall, it is transparent that while during the first half of the period, the percentage of households in rented accommodation was higher than that of people who lived in their own houses, the opposite trend was observed in the rest of the time.

In 1918, the figure of families in rented accommodation stood at over 75%, tripled that of who lived in owned accommodation. However, after a gradual decrease, this figure dropped to 50% in 1971. In contrast, the number of people living in owned houses increased steadily over the years until accounting for the similar percentage as those living in rented places.

The proportion of households in rented accommodation continued to decline marginally during the following years. After reaching its lowest point at 31% in 2001, there was a small rise by 5% in its data in 2011. Nevertheless, a different pattern was seen in the percentage of families in owned accommodation, which the number of people living in their houses grew slightly from 50% to 69% during the period of 30 years from 1971 to 2001 before went down to 64% in 2011.

---
Band 7+ eBooks
"I think these eBooks are FANTASTIC!!! I know that's not academic language, but it's the truth!"
Linda, from Italy, Scored Band 7.5