IELTS Writing Band Score + Feedback
IELTS Writing Band Score + Feedback

Academic and General training - Task 1 & 2
Would you like know your writing band score for Task 1 and 2? Would you like some basic feedback for each writing criteria?
If so, with this IELTS writing service, you can submit your Task 1 or Task 2 for checking.
For each writing piece you submit you will get:
The Package:
Overall score for your essay/graph/letter 
Band score for each criteria (Task Response/Achievement; Coherence and Cohesion; Lexis; Grammar)
Brief feedback on why each score was given
All scores and feedback guaranteed to be provided by an experienced ex-IELTS examiner

,

so you can be assured it's an accurate assessment*
Feedback and score returned to you in 2-3 days
*there is no guarantee you will get this score in the test as various factors can affect a person's score on the day

This is an example of the type of feedback you will receive (this was for an essay):


Example Feedback: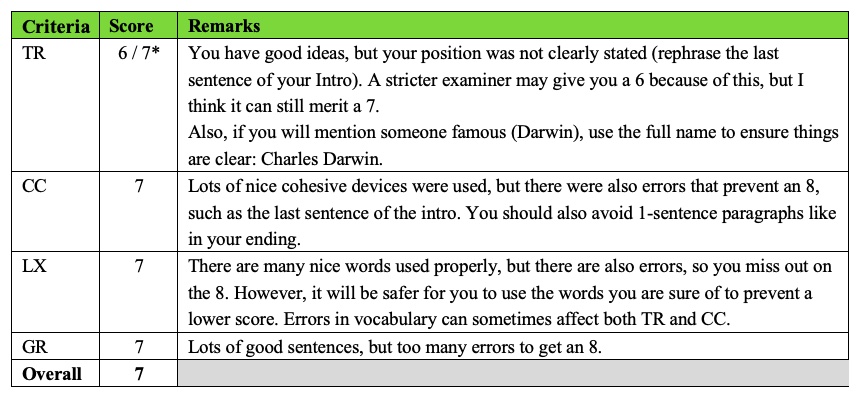 Prices:
1 writing


2 writings


3 writings


4 writings


$12


$22 ($11 each)


$31.50 ($10.5 each)


$40 ($10 each)

5+ writings

(ordering 5 or over)



20% Discount ($9.60 each)
Feedback, June, 2020:
I just wanted to thank you for your help last month. After 3 attempts, I finally got 7 from writing and 8.5/8/9 from the others.
Your scores and comments were extremely useful when practicing over and over again for 2 weeks.
All the best,
Deniz (Turkey)
---
Making a purchase
Click on the 'Add To Cart' button to add a correction to your shopping cart. Amend the total according to how many you would like to buy.
You can pay by credit / debit card or paypal.


After Making the Purchase
Once you have made the purchase, you will be sent some questions to choose from, though you can also choose your own if you wish.
You then simply email it back on the email address you'll be provided with. 
Please note that the 2-3 day turnaround is for 1 submission. Add around an extra day for each extra one you purchase though we'll get them back to you as soon as we can.
---

Just wanting timed exam practice plus your band score?
Check out these computer based practice tests. 
Comments
Any comments or questions about this page or about IELTS? Post them here. Your email will not be published or shared.
---
---
Band 7+ eBooks
"I think these eBooks are FANTASTIC!!! I know that's not academic language, but it's the truth!"
Linda, from Italy, Scored Band 7.5