IELTS Blog
To subscribe to the IELTS buddy blog (no e-mail necessary), right-click on the orange RSS button in the right column and then paste the URL into your RSS reader.
Or click on the Google, My Yahoo!, My MSN button or Bloglines button if you keep a personalised home page there.
Alternatively, subscribe to IELTS buddy to get any updates into your mailbox.
Dec 08, 2023
IELTS Bar Chart: Holiday Leisure Activities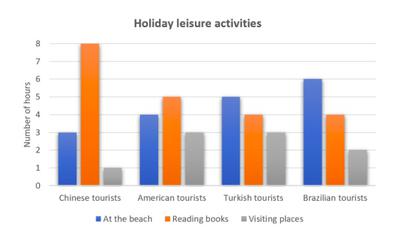 The illustration given provides information about the usual number of hours every single day that Chinese, American, Turkish and Brazilian tourists spent
Continue reading "IELTS Bar Chart: Holiday Leisure Activities"
Comments
Any comments or questions about this page or about IELTS? Post them here. Your email will not be published or shared.
---
---
Band 7+ eBooks
"I think these eBooks are FANTASTIC!!! I know that's not academic language, but it's the truth!"
Linda, from Italy, Scored Band 7.5