IELTS Bar Chart - Travellers using three major airports
by Maharshi Patel
(Ahmedabad, Gujarat, india)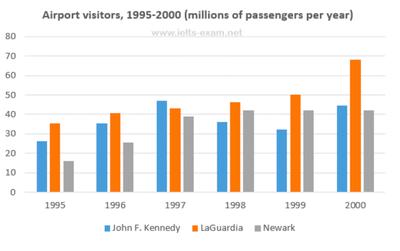 The chart shows the number of travellers using three major airports in New York City between 1995 and 2000.
Please tell me my band and mistake I did and how to improve band score.


***
Depicted here is a chart which delineates about the number of travelers in millions who used three major airports (John F. Kennedy, LaGuardia, and Newark) of New York City over the period of six years (1995-2000).
There was a considerable rise in the number of passengers who used LaGuardia airport from 1995 until 2000. Moreover, it had a noticeably higher number of passengers compared to other airports except in the year 1997, In this year, the Largest number of passengers used Jhon F. Kennedy airport.
Similarly, There was a marked increase in the number of passengers at Newark until 1998. After that, it remained constant for the last three years. The sequential oscillations were noted for John F. Kennedy airport over the period of six years. From data, it is clear that far more passengers used LaGuardia airport in the year 2000 compared to other airports. Almost 68 million passengers used it this year.