IELTS Bar Chart - UK Telephone Calls
by uzma
(lahore)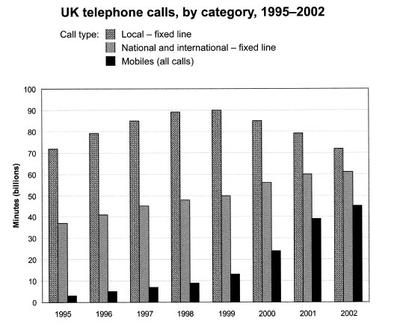 The chart shows the total number of minutes (in billions) of telephone calls in the UK, divided into three categories, from 1995-200
The bar chart depicts the total no. Of million minutes utilized for different phone call types categorised as local, national & international and mobile in the united kingdom in the time period of 7 years between 1995-2002.

Overall, it is obvious that over the span of time the maximum minutes are utilized by local fixed line type call, being 10 billion in 1995. They gradually increased to around 90 billion in the years 1998-99, then the no. Gradually decreased till 2002, but still higher then the others in the group.

In contrast, the total no. Of minutes utilized by both national and international fixed lines as well as mobile showed an gradual upward trend over the period of years but still lower then local-fixed line. In 1995, the minutes utilized by fixed line were around 35 billion and by mobile 3 billion which showed gradual increase up to 60 and 40 respectively.


***
Respected all, Kindly read this writing task 1 and advise me improvements and plz grade my band score according to it. Thanx
---
Band 7+ eBooks
"I think these eBooks are FANTASTIC!!! I know that's not academic language, but it's the truth!"
Linda, from Italy, Scored Band 7.5