IELTS Model Essays eBook
Packed full of Band 7, 8 and 9 IELTS model essays,
each with tips and advice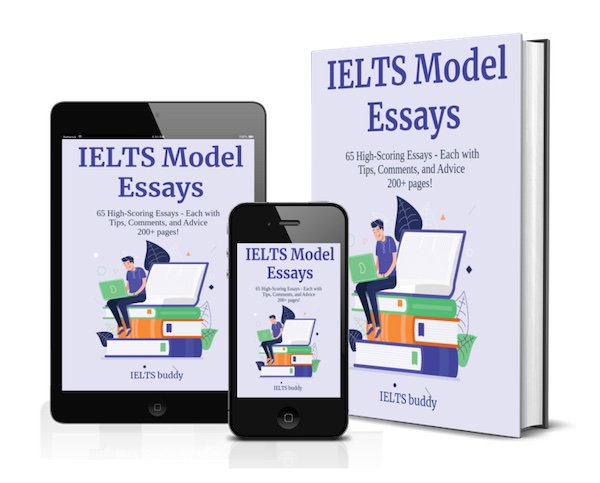 This is the latest IELTS buddy eBook, designed to show you the kinds of essays that will achieve a high score in IELTS, each with tips and advice.
Over 200 pages!
Easy to Use
The IELTS buddy model essays are packed into this eBook so you can have easy access to view them all.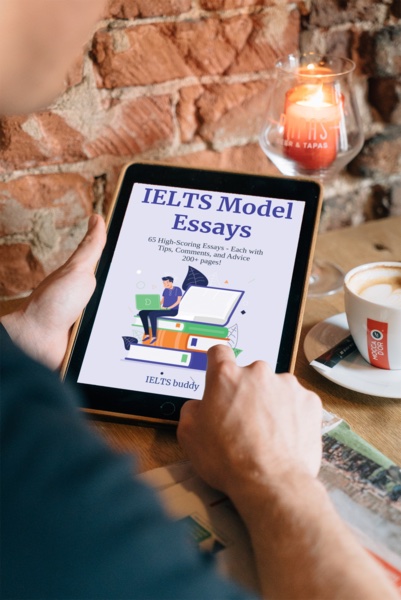 It's an interactive eBook with a clickable table of contents to quickly take you to the essay you want to read.

Once you've downloaded the eBook you can easily access it from anywhere on any of these devices:
Laptop & Desktop
Ipad
Phone
You won't need an internet connection as it's a PDF so view it any time at your leisure. 
Packed full of Tips & Advice
The eBook is packed full of high-scoring IELTS essays so is an excellent resource for studying how to write IELTS essays - from understanding the types of topics that come up to structuring your essay and presenting your ideas.  
Each IELTS model essay has tips and advice to help you understand the approach to writing it and why it was a good essay. These tips will mainly focus on aspects related to the IELTS grading system, namely:
Task Response
Coherence and Cohesion
Lexical Resource
Grammatical Range and Accuracy
The chapters of the eBook are divided up into the common types of questions that appear in IELTS for easy reference, which are:
Agree / Disagree
Discuss Two Opinions
Causes (and Effects; Solutions; Pros/Cons)
Problems and Solutions
Advantages and Disadvantages
Other Types of Questions 
How does it differ from IELTS Made Easy: Task 2?
You may have also seen our IELTS Made Easy: Task 2 eBook. 
If you are thinking of purchasing only one of these or perhaps wondering whether you want both, you will likely want to know the key differences. 
IELTS Model Essays eBook
The Model Essays eBook is as it says - it is full of model essays and each one has some general tips and comments  (see the sample pages below). There aren't activities or tasks included in the book.
Task 2 eBook
However, the Task 2 eBook is a structured course that builds up your IELTS essay writing skills step-by-step. 
Each chapter focuses on a different aspect of essay writing, such as how to analyse the question and brainstorm, how to organise your answer, and how to quickly write an essay that is well-organised with the right grammar.
The Task 2 eBook also has a lot of practice activities and exercises for you to hone your writing skills. There are model essays included in the Task 2 eBook as well, but it's not the main focus. 
Making your choice
So they can both complement each other and buying both will certainly help with your essay writing. 
But if you wish to purchase one, then think about whether you want to have a bank of examples of model essays with tips or structured essay writing lessons with activities. 
View Sample Pages
Before you buy, check out this sample section from the Model IELTS Essays eBook: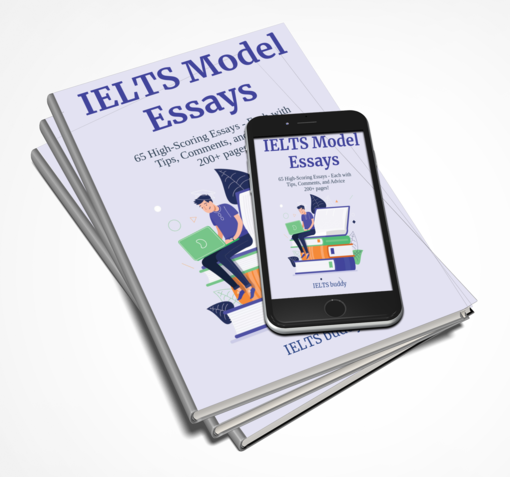 Money Back Guarantee
I'm sure you'll be happy with the eBook, so there's a no questions asked money back guarantee if you decide the eBook isn't what you wanted.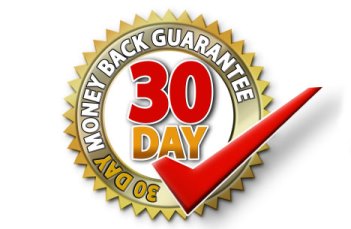 Buy Now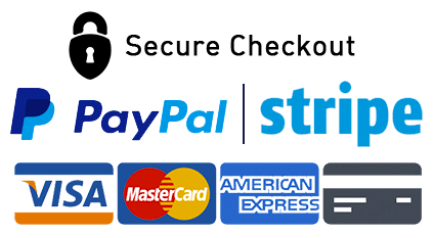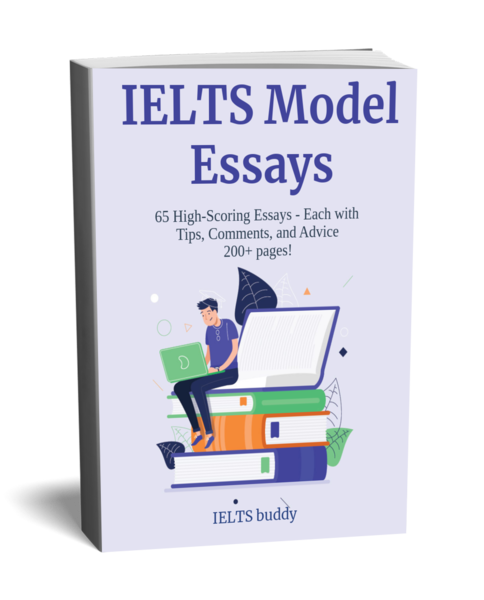 $9.99
---
Comments
Any comments or questions about this page or about IELTS? Post them here. Your email will not be published or shared.
---
---
Band 7+ eBooks
"I think these eBooks are FANTASTIC!!! I know that's not academic language, but it's the truth!"
Linda, from Italy, Scored Band 7.5