IELTS Pie Chart - Australian Household Energy Use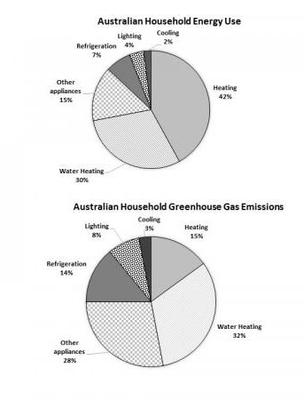 The first chart below shows how energy is used in an average Australian household. The second chart shows the greenhouse gas emissions which result from this energy use.
The two charts represent the use of energy by an average Australian household and emission of greenhouse gas from the use of energy respectively. Heating and water heating are the two main uses of energy and thus contributing to a significant proportion of emission as by-product from the consumption of energy.

Heating uses slightly less than a half the energy but leads to as less as 15% of the total emission of the greenhouse gas. Followed by heating is the water heating, consuming up to one-third of the energy and leading to 32% of the hazardous emission.

Strikingly, the refrigerator uses only 7% of the total energy but pollutes in the exactly double proportion. Meanwhile, the relation between use of energy and emission of harmful gas by other appliances also show similar results as only 15% of the energy is consumed while emitting almost a quarter of the total greenhouse gas.

---
Band 7+ eBooks
"I think these eBooks are FANTASTIC!!! I know that's not academic language, but it's the truth!"
Linda, from Italy, Scored Band 7.5