IELTS Table - School Attendance
by Zarifbek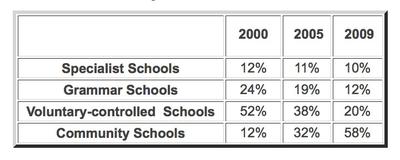 The table shows the proportions of pupils attending four secondary school types between 2000 and 2009
The table compares the percentage of four types of secondary school students from 2000 to 2009.

Overall, there was a decrease in the proportion of students at schools of Specialist, Grammar, and Voluntary-controlled across the period, while the reverse was true for Community schools. Also, it had the highest figure in 2009.

We can see that the percentage of Specialist schools' pupils was 12% in 2000, while the ratio of Grammar Schools students was 24% in this year. Having declined in 2005, the percentage of students in Specialist schools also decreased to 10% in 2009. From 2005 to 2009, the proportion of Grammar secondary school pupils dropped by 7%.

Regarding pupils attending Voluntary-controlled school, the percentage was 52% in 2000 and dipped to 20% in 9 years. By contrast, Students in Community schools was 12% in 2000, yet the proportion of pupils increased to 32% in 2005. Finally, this percentage rose by 26 % in 2009.

Join in and write your own page! It's easy to do. How? Simply click here to return to IELTS Graph Feedback Forum.
---
Band 7+ eBooks
"I think these eBooks are FANTASTIC!!! I know that's not academic language, but it's the truth!"
Linda, from Italy, Scored Band 7.5